ARTS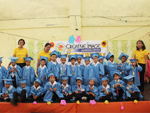 ARTS CIF Performing Arts Center started its lesson in singing on November 11, 2006 at Pangarap Learning School under the supervision of Mr. Romeo Ursolino, a Singer / Musician and a TESDA recognized OPA Trainer. CIF started training children who are gifted but due to poor financial status coupled with lack of opportunity, they became stagnant unable to enhance and develop their talents. The project started since October 2004. The product of which are the PAYATAS KIDS with Jenifer Hontucan and Gilbert Donato but, since the two had grown into teens, Creative Image Inc. decide to look and audition for other children. The children will undergo once a week traning conducted every Saturdays from 1 p.m. to 5 p.m. Romeo Sensei as what Mr. Ursolino want him to call by the children being trained. He starts the training not only to develop their talents in Music but his goal is also to develop their physical appearance, having them a well prepared mind and body. CIF Performing Arts Center extends free training for musical instruments, like piano, drums and flutes lesson. A total Music Skill training is what the Creative Image Foundation's new goal. © 2001 Creative Image Foundation
LIVELIHOOD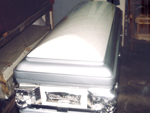 ARTS CIF Performing Arts Center started its lesson in singing on November 11, 2006 at Pangarap Learning School under the supervision of Mr. Romeo Ursolino, a Singer / Musician and a TESDA recognized OPA Trainer. CIF started training children who are gifted but due to poor financial status coupled with lack of opportunity, they became stagnant unable to enhance and develop their talents. The project started since October 2004. The product of which are the PAYATAS KIDS with Jenifer Hontucan and Gilbert Donato but, since the two had grown into teens, Creative Image Inc. decide to look and audition for other children. The children will undergo once a week traning conducted every Saturdays from 1 p.m. to 5 p.m. Romeo Sensei as what Mr. Ursolino want him to call by the children being trained. He starts the training not only to develop their talents in Music but his goal is also to develop their physical appearance, having them a well prepared mind and body. CIF Performing Arts Center extends free training for musical instruments, like piano, drums and flutes lesson. A total Music Skill training is what the Creative Image Foundation's new goal. © 2001 Creative Image Foundation
HEALTH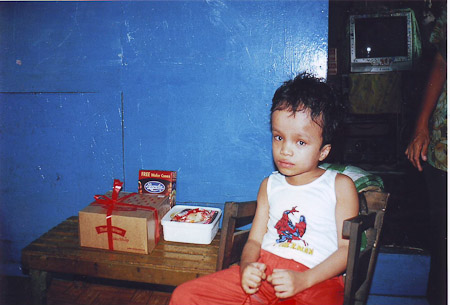 EARLY LIFE
ALEX
In 1998, while Toshi was doing a film, God's Children, he met Alex Enquillo, a boy with hydrocephalus and really in need of special medical attention. Mr.Uriu took Alex for a check-up at the University of Santo Tomas Hospital (UST), he was diagnosed having a Non-communicating Hydrocephalus and Primary Pulmonary TB and said only to live for a couple of months.
Alex was born on January 30, 1996, a normal delivery boy. Like any baby he was physically normal until, at three months his mother noticed that his head started swelling. He was checked by a doctor but, following check-up became delayed due to financial problem. Nevertheless, his mother tried a lot to cure Alex's condition; like herbal medicines and some Quack Doctors. Alex's head stopped swelling on November 2002 when Mr. Uriu started to take Alex to UST Hospital.
He was referred to a Pedia Neuro for treatment and found out that Alex also suffers from Primary Pulmonary TB. The Doctor wanted to cure it first and to avoid other complications. Later, they found out that the father of the boy also suffering from Pulmonary TB and so the doctor recommended the boy to seclude temporarily from their parent's custody.
THERAPHY
Mr. Uriu provides all the medical assistance needed, and everything that he can extend help for Alex. We can say that a miracle happened to him. He was given a couple of months left but he survived. Alex is now 11 years old and he can now kick his feet, raise his hands and even "carry" his head. From a skinny sickly boy, now Alex is doing good, talks a lot and he can even make you laugh. "Papa Toshi" as what he call Mr. Uriu. We hope that one day he can go to school and join his two sisters. Alex is the eldest, as the "Kuya" you can see him that he has this determination to get quite well and be able to stand up with his own feet someday.
DEATH
After a long time that Alex fight againts his condition (hydrocephalus), In May 7 2014 Alex already passed away at the age of 18, because of many complications he got.
SPORTS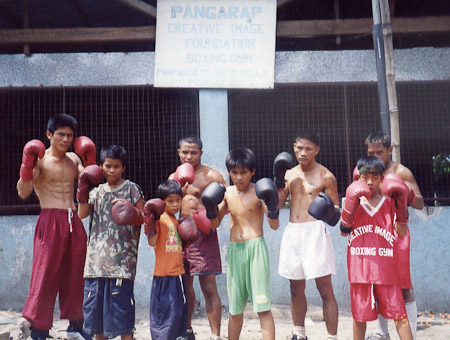 ARTS CIF Performing Arts Center started its lesson in singing on November 11, 2006 at Pangarap Learning School under the supervision of Mr. Romeo Ursolino, a Singer / Musician and a TESDA recognized OPA Trainer. CIF started training children who are gifted but due to poor financial status coupled with lack of opportunity, they became stagnant unable to enhance and develop their talents. The project started since October 2004. The product of which are the PAYATAS KIDS with Jenifer Hontucan and Gilbert Donato but, since the two had grown into teens, Creative Image Inc. decide to look and audition for other children. The children will undergo once a week traning conducted every Saturdays from 1 p.m. to 5 p.m. Romeo Sensei as what Mr. Ursolino want him to call by the children being trained. He starts the training not only to develop their talents in Music but his goal is also to develop their physical appearance, having them a well prepared mind and body. CIF Performing Arts Center extends free training for musical instruments, like piano, drums and flutes lesson. A total Music Skill training is what the Creative Image Foundation's new goal. © 2001 Creative Image Foundation